History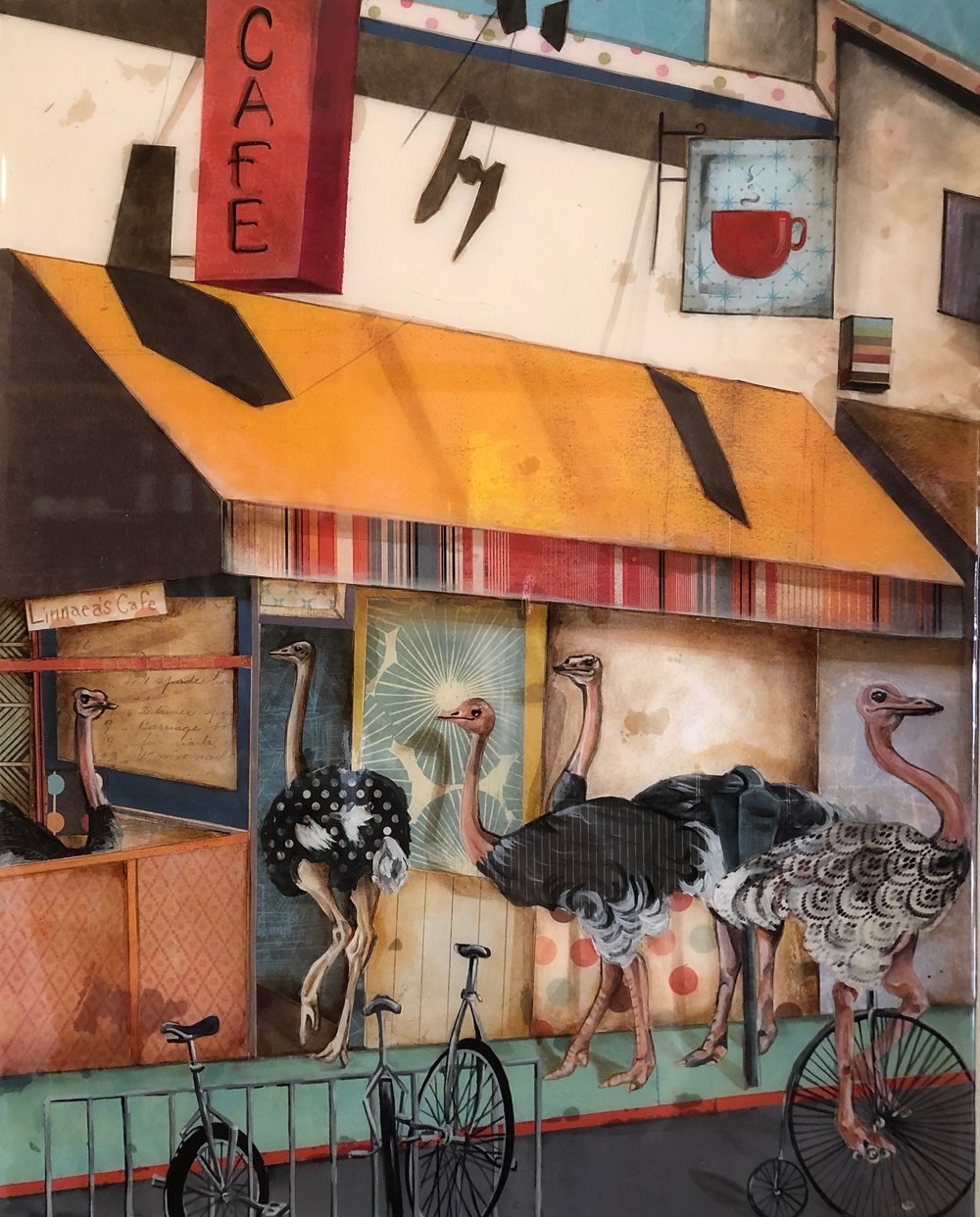 It all began in 1984 when Linnaea Phillips created a gathering place for conversation, music, social events, and, of course, sharing good food and drink. With the help of many friends, her vision of a classic coffee house became a reality, and one of the first 2nd wave coffee establishments on the West Coast was born. Almost 40 years later, Linnaea's Cafe is still a beloved fixture of downtown San Luis Obispo and a popular place for both locals and out-of-towners.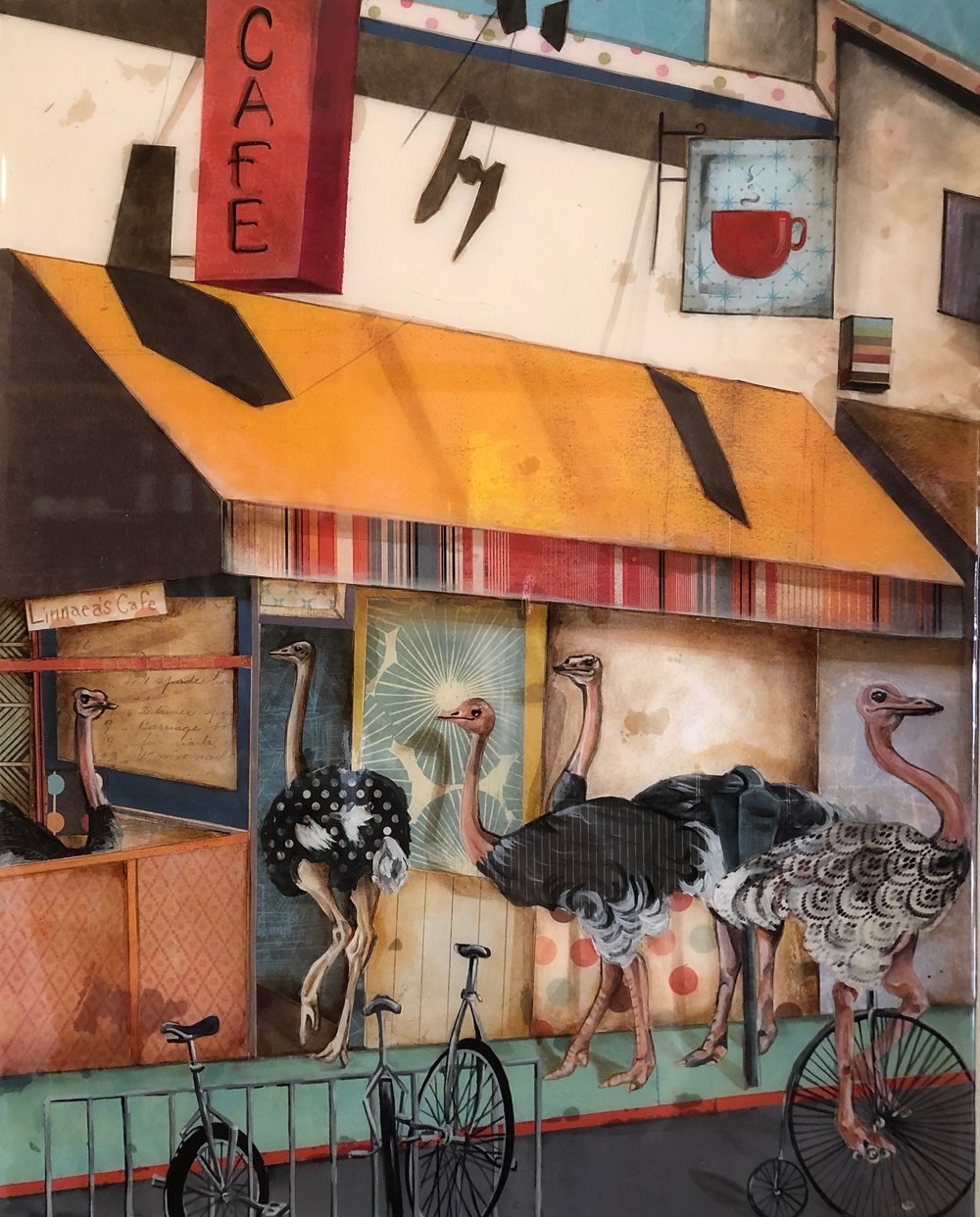 In 2008, Linnaea sold the café to her longtime manager, Marianne Orme, who continued to expand the bakery and events program. After a number of important renovations conducted by Kim and Eric Boege, the cafe was passed to husband-wife duo Alex and Rusty Quirk in 2023. Rusty, a Cal Poly Graduate and Michelin Guide-recognized pastry chef, and Alex, a SLO-local musician and event producer, have dedicated themselves to restoring Linnaea's as the eclectic and welcoming center of San Luis Obispo's coffee house culture. Linnaea's remains a popular showcase for rising local artists and host to a variety of musical performances, poetry readings, art installations, jazz jams, and other events.
The Garden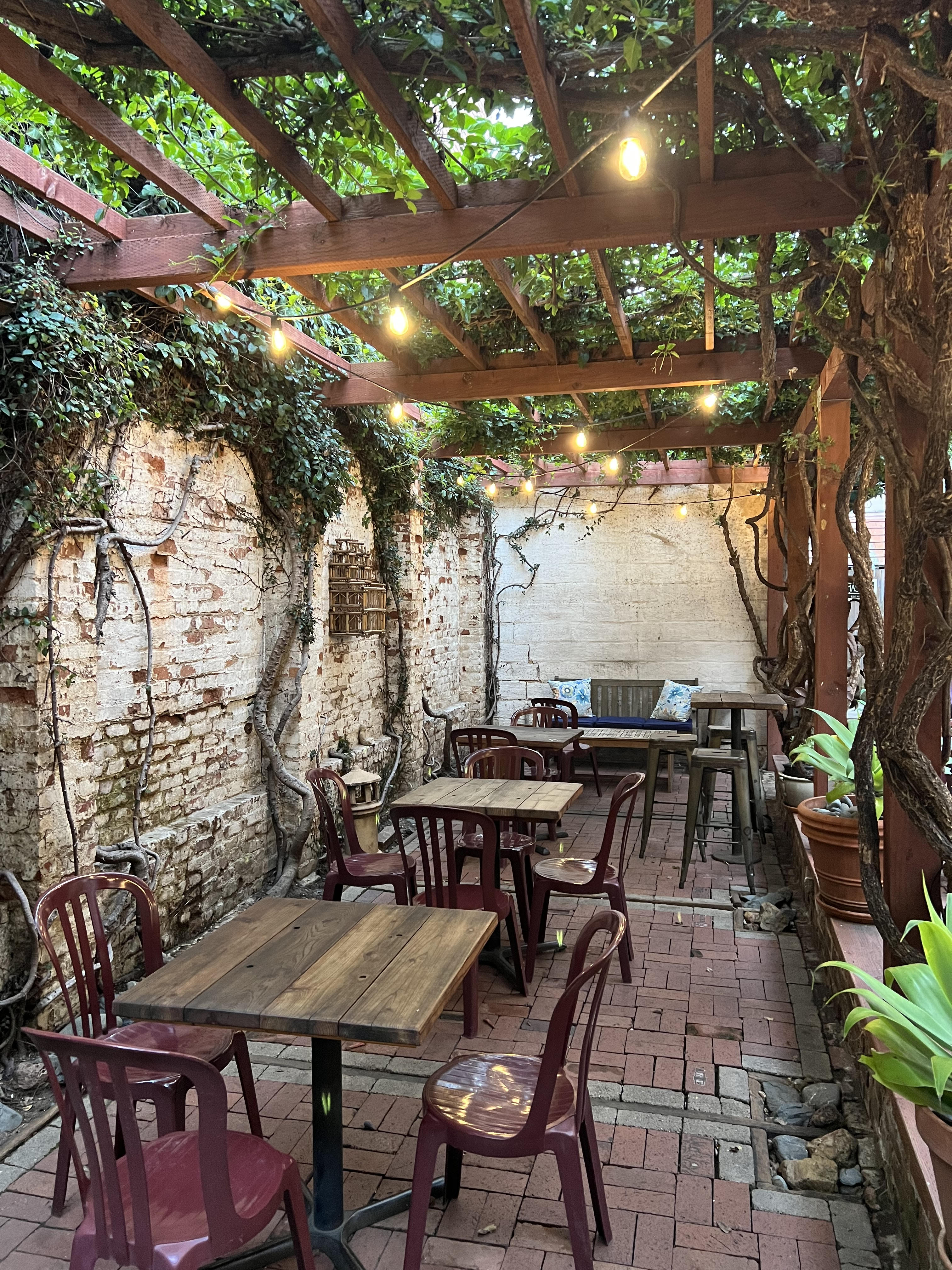 The Garden has been around since the cafe was founded in 1984. It became a community project when Linnaea asked friends and customers to bring in a brick or two to help build the patio floor. You can still see the signed, decorated blocks here and there, reminding us that we're all in this together--that we have the power to create community and a beautiful space for us all to enjoy and benefit from.

One of our favorite things is to watch people discover the patio garden behind the coffee shop itself. They usually sound something like this: "Oh, wow, would you look at this! Amazing! It's so pretty. And there's a fish pond! No way!"

People spend many a lovely hour out back in the garden, sipping lattes, catching up with friends, studying, or doing creative work in the quiet, serene space. The resident sparrows and finches come and go among the dense branches of the tropical arbor, cleaning up any muffin crumbs and taking little splash baths in the koi pools.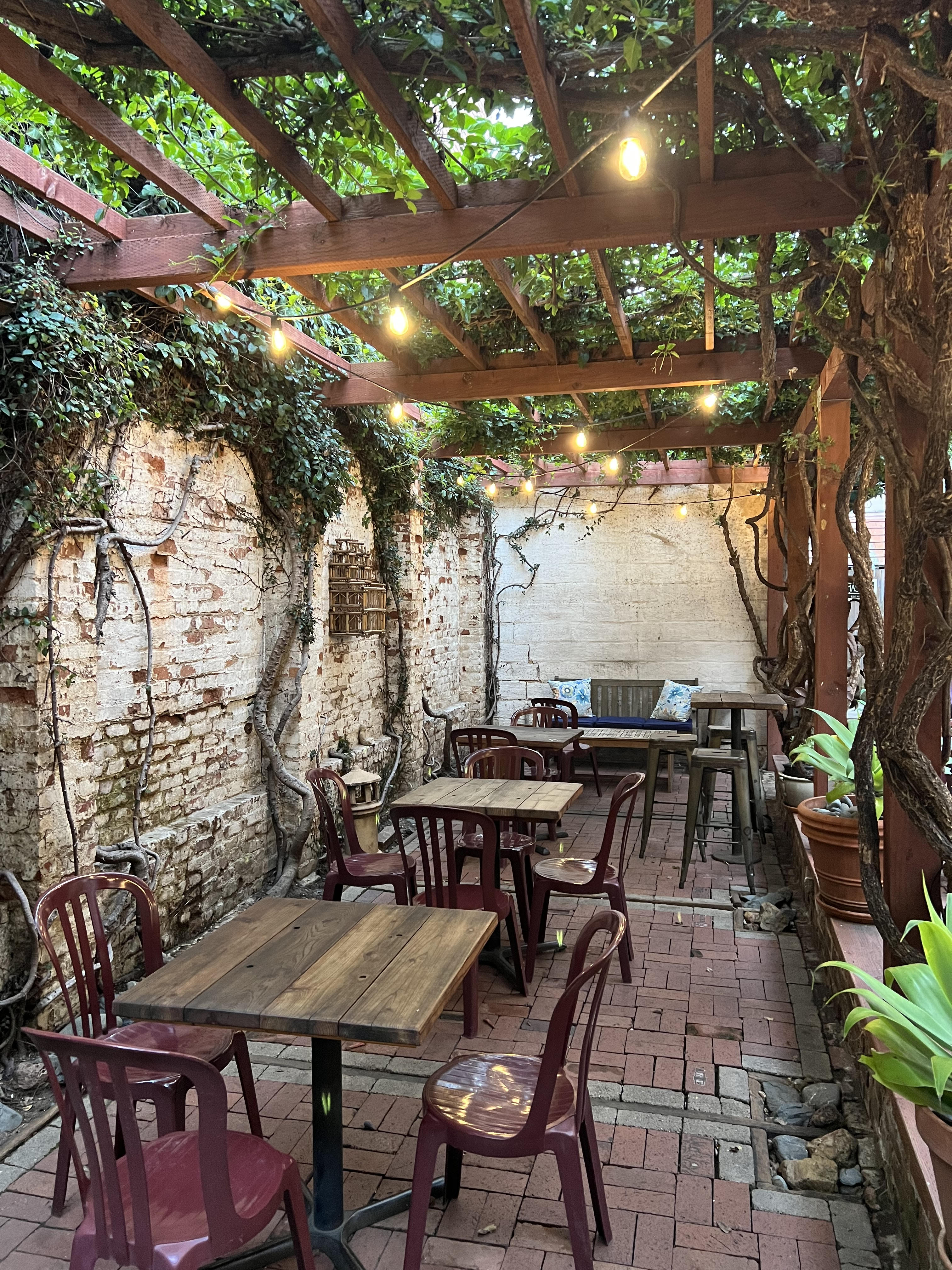 Our Town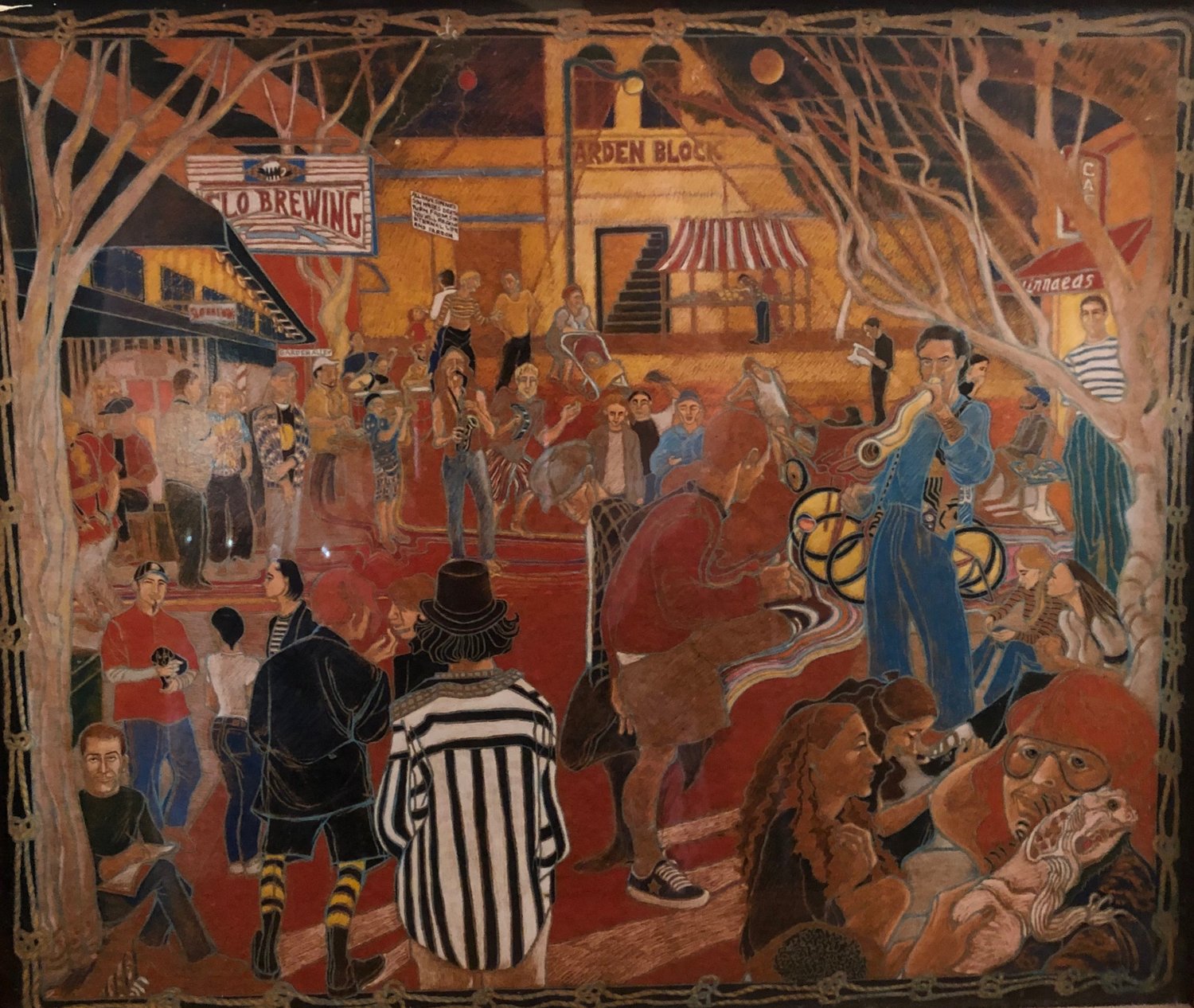 San Luis Obispo (SLO, SLOtown, or San Luis) is the county seat and home of California Polytechnic State University (Cal Poly) with a population of 45,000, about 1/3 of whom are college students. It is almost exactly half-way (about a 4 hour drive) between Los Angeles & San Francisco, and just a few miles from the coast, where Highways 1 and 101 meet. It is a quiet and beautiful town, with a very strong sense of community. The town slows down a bit during the first part of the summer, but picks up in August when Europe takes a vacation. San Luis has a beautiful downtown, wonderful outdoor concerts during the summer, and great weather year round. We are blessed to live in such a beautiful place.